More Heroines on the Horizon
January 25, 2017
MPAA proudly sponsors the 3rd Annual Horizon Award
Various studies have concluded that women do not having equal representation as filmmakers. According to one study, in 2016, women comprised just 17% of all directors, writers, producers, executive producers, editors, and cinematographers working on the top 250 domestic grossing films.
The MPAA supports greater inclusion and diversity both in front of and behind the camera.  More and more women are stepping into the spotlight (or rather, directing that spotlight), and the MPAA is proud to support them.
The female talent is out there, and many organizations are working to raise awareness for this issue and recognize their work.
In 2014, producers Cassian Elwes (Dallas Buyers Club, Mudbound), Lynette Howell Taylor (Captain Fantastic), and Christine Vachon (Carol) founded the Horizon Award, an accolade that recognizes and mentors emerging female directors.
Last weekend, the MPAA, along with The Adrienne Shelly Foundation, Sundance Institute, Women In Film (WIF) Los Angeles, The Black List, CreativeFuture, The Creative Mind Group, ScreenEngine, Twitter, WME, and ShivHans Pictures presented two female directors with the 3rd Annual Horizon Award. WME-IMG hosted the event and provided support for the female directors as well.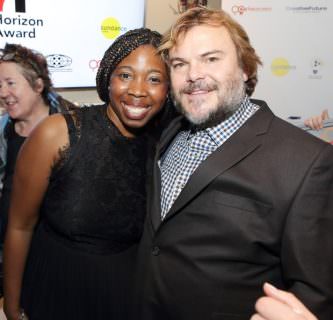 Award Winner Brittany "B Monét" Fennell and Actor Jack Black. (Photo credit: Dan Campbell / Horizon Award)
Brittany "B Monét" Fennell and Andy Villanueva were the winning female directors who submitted their self-directed short films to the Horizon Award for cash grants at the event.
This award will help to further propel these talented women in careers in the film industry. The winners each year receive a trip to the Sundance Film Festival where they meet with producers, filmmakers, festival programmers, and others in the industry. Additionally, the winners will participate in the Sundance Ignite Program, designed to provide artistic and professional development, mentorship, and industry exposure for emerging filmmakers.
This award will help support the next generation of female filmmakers and inspire women everywhere to work to achieve their dreams.
Learn more about the Horizon Award here.
Featured image, from left to right: Award Winner Brittany "B Monét" Fennell, Actress Sharon Lawrence, Director Dee Rees, Award Winner Andy Villanueva, Actress Carey Mulligan, and Actor Jack Black. (Photo credit: Dan Campbell / Horizon Award)