E3: VR and 4K gaming are (finally) here
June 26, 2017
Games, Consoles, and Virtual Reality: A Look Back At E3 2017
For techies, gamers, and cinematic fiends alike, there is nothing better to mark the end of spring in Southern California than the latest game and technology announcements from E3 (Electronic Entertainment Expo). For more than 20 years, E3 has molded the gaming marketplace through releases of next-generation consoles and peripherals, and sparked imaginations with more intense and richly developed storytelling experiences.
And this year, for the first time, the Expo opened its doors to the general public. The combination of industry professionals and game aficionados generated a total of 68,400 attendees – the largest attendance to date.
E3 attendees witnessed first-hand how, today, powered by eighth generation consoles, video games have evolved far beyond the actual game. In fact, with Virtual Reality (VR) and 4K content front and center at this year's event, game consoles are now becoming media centers for all digital content.
As was the case at this year's CES and SXSW, creators and entertainment companies are increasingly investing in interactive storytelling and immersive experiences, blending gaming, popular television shows, and movie franchises to create whole new worlds of entertainment.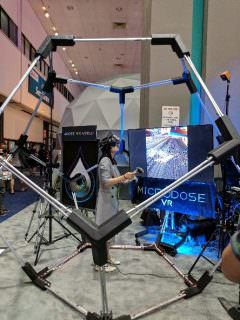 Microdose VR showing off its 16-sided VR capture polygon structure.
Here's a look at just a few of the highlights:
The Sony PlayStation booth was teeming with numerous demos of their latest HD, 4K, and PSVR games. Although this was the first E3 since the launch of PSVR, 14 PSVR games were announced during the show plus the addition of the PSVR gun controller. Some of the PSVR titles announced were: "The Elder Scrolls V: Skyrim VR," "Fallout 4" and "Moss," which presents a new perspective on VR game play by removing the first-person perspective.
Expanding on their Middle-Earth chronicles, where such classics as The Hobbit and Lord of the Rings are set, Warner Brothers (WB) Games announced the release of their live-play game, Middle-Earth: Shadow of War.
Based on the DC Universe of characters, WB Games also announced the return of the super-hero fighting game, Injustice 2. For the first time, gamers can take control of how their characters look, fight, and develop across a variety of game modes.
Adding to the super-hero genre, Disney's Marvel Universe was showcased, via the debut of Spider-Man along with the beloved battle series of Marvel vs. Capcom: Infinite. For the first time in franchise history, the Marvel and Capcom universes collide in a visually stunning and immersive cinematic Story Mode, as heroes and villains battle together to save their merged worlds from a sinister new threat, Ultron Sigma.
And Star Wars debuted the second chapter of the massive multiplayer online (MMO) series with Star Wars Battlefront II, where consumers have the option to play solo or with a team of players. It was also rumored that Criterion Games is working on a complementary VR experience for Battlefront II players.
Until next year…