Asia Pacific Co-Productions in the Spotlight
November 10, 2017
Today's stories from Asia Pacific filmmakers transport audiences to places around the world – to the streets of Bangkok, where a long-lost elephant works to find his way home, and to the Middle East to share the laughter of a father and son duo.
Through their unique narratives, the region's storytellers are bringing an important, fresh perspective to our industry. Which is why, last night, the MPA, APSA Chair, innovators, and leaders from the Embassy of Australia, Embassy of the Republic of Singapore, and the Office of Commercial Affairs, Royal Thai Embassy came together to celebrate storytelling highlighted by the MPA APSA Academy Film Fund and the Asia Pacific Screen Awards.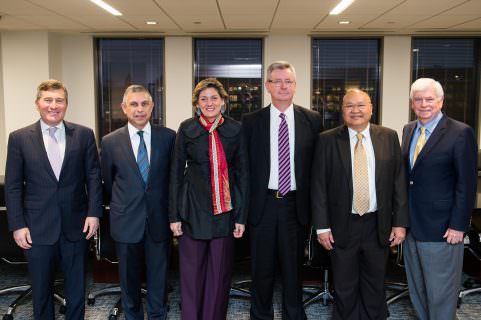 During the event, attendees had the opportunity to view:
Pop Aye

, a Singapore-Thailand comedic drama co-production from Singaporean filmmaker Kirsten Tan. The film won the top prize for best international feature film at the 13th Zurich International Film Festival and Special Jury Prize for Best Screenplay in the World cinema category at the 2017 Sundance Film Festival. The film's executive producer, Anthony Chen,

was on the International Jury in 2014 and received an APSA for Achievement in Directing the previous year.

A short excerpt from a new Michael Hawkins film,

Wajib –

a project from

Palestinian filmmaker Annemarie Jacir, and a recipient of a grant from the

MPA APSA Academy Film Fund program.
The Asia Pacific Screen Awards (APSA), founded in 2007, recognizes and promotes the cinematic excellence and cultural diversity of the vast Asia Pacific region. The MPA has partnered with the APSA since its inception and created the MPA APSA Academy Film Fund program in 2010. This program supports the script development of four new film projects each year. Notably, of the 28 recipients to date, 39 percent were women.
Last night's event also featured a conversation between APSA Chairman Michael Hawkins and Senator Chris Dodd. The two discussed the importance of the MPA and APSA partnership and their work to encourage dialogue, collaboration, and business opportunities for its alumni of nominees, winners, and juries. 
The conversation touched on the importance of copyright to the more than 1,000 Asia Pacific Screen Academy members – and the need for strong content protection measures to secure the viability of filmmakers' creative rights.
Over the last decade, thousands of feature length films have competed in the APSAs. These films demonstrate a rich slate of diversity – each telling unique narratives from their respective countries of origin. The MPA and APSA will continue promoting these creative works and connecting those around the globe who believe in the Asia Pacific region as place home to rich storytelling.