Ron Howard Teases Link to Iconic Star Wars Concept Artist Ralph McQuarrie on set of Han Solo
Concept artist Ralph McQuarrie likely had the biggest impact on the Star Wars franchise than anybody else whose name isn't often readily known by the masses. Every person on the planet, more or less, knows the names of George Lucas, Harrison Ford and Carrie Fisher, but McQuarrie is relatively unknown save for us diehard Star Wars fans.
McQuarrie's early sketches helped George Lucas translate his vision to the crew, making it possible to build a world unlike anyone had ever seen in film before. McQuarrie's impact on the Star Wars universe cannot be overstated, as evidenced by this piece about his influence on StarWars.com. As the site's Patrick Cavanaugh writes: "In ways both figurative and literal, without Ralph McQuarrie, there would be no Star Wars. George Lucas had confidence in his compelling characters and dramatic stories, but also knew it would take more than his words and descriptions to convince a studio to support such an ambitious project."
McQuarrie passed away in 2012, but his work has lived on. Filmmakers and television creators associated with the Star Wars franchise have used his unused designs to help inform their work, including J.J. Abrams for The Force Awakens and the team behind Star Wars Rebels, who used his Darth Vader design. McQuarrie's original designs for many of the most beloved characters and vehicles, from Vader and R2-D2 to the X-Wing and speeder bike, have helped inspire and inform Star Wars artists ever since.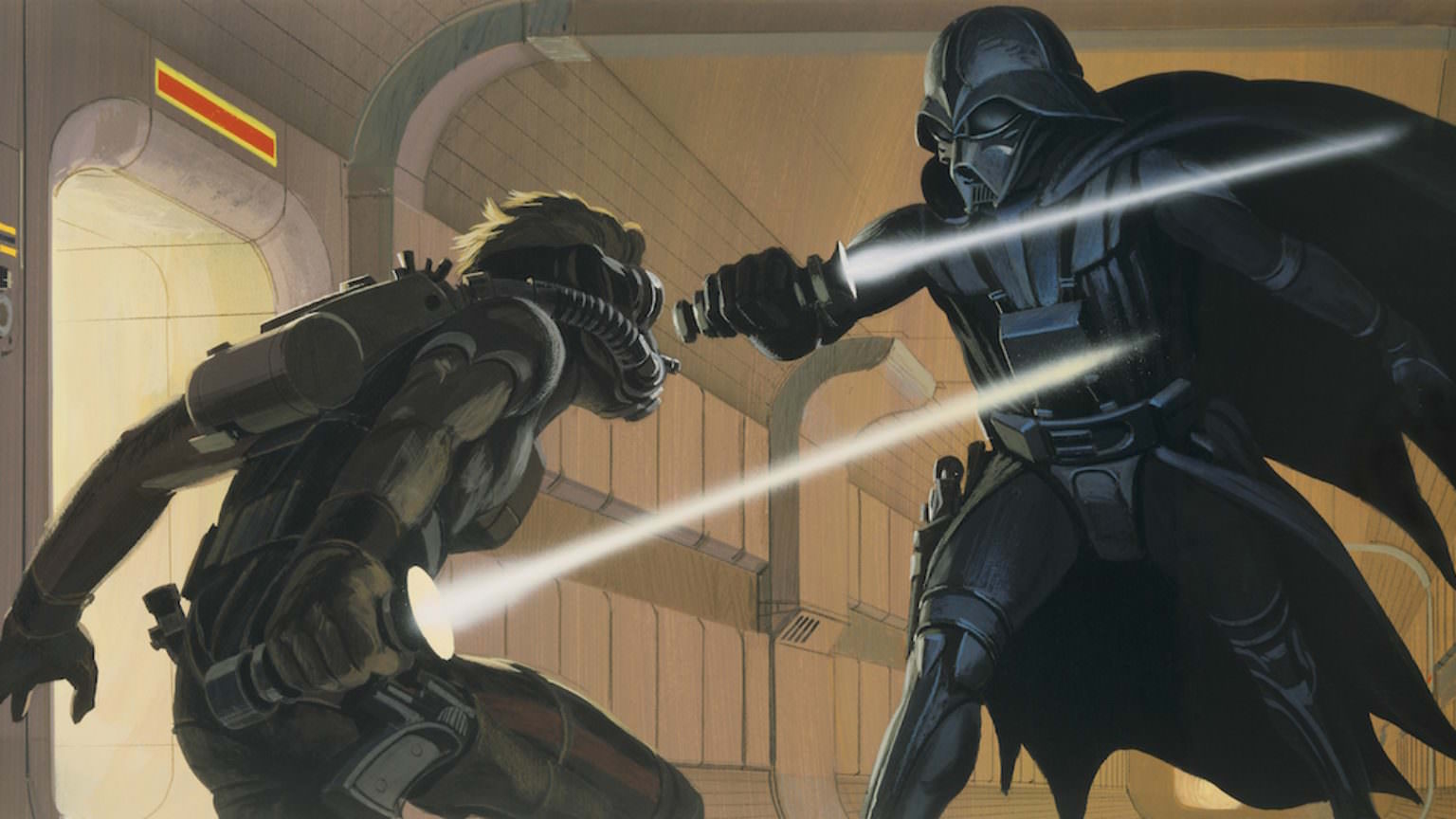 McQuarrie's gorgeous take on Darth Vader.
Now, thanks to Han Solo director Ron Howard's active social media feed, we know he'll be dipping into McQuarrie's incredible cachet of Star Wars art for his film. Howard shared a photo teasing a Ralph McQuarrie easter egg, which we've embedded below.
If you really want to know more (naturally an eagle-eyed Star Wars fan thinks he's traced what the below image relates to in McQuarrie's work), click here. For a look at the five-part tribute to McQuarrie's work, begin here.
Can anybody translate for me? #McQuarrie #UntitledHanSoloMovie pic.twitter.com/mbKltvhFbW

— Ron Howard (@RealRonHoward) September 26, 2017