All Eyez on Me Writers Show All Sides of Tupac Shakur
When Tupac Shakur got beaten by a couple of Oakland cops for jaywalking, Eddie Gonzalez, co-writer of the late rapper's All Eyez on Me bio-pic (opening Friday) could relate. Growing up poor in and around L.A.'s tough Compton neighborhood, Gonzalez says "I know about being harassed by police officers. You feel like don't have a voice but you want to say something, do something. That's why people connected with Tupac, and that's why I connected with him. I felt like the same way he did."
Gonzalez and longtime writing partner Jeremy Haft, raised in suburban Chicago and New Jersey, combined their insights when pitching producers on their two-heads-is-better-than-one approach to the Tupac Shakur story. Haft recalls, "Eddie knew the inside baseball because he saw poverty, police abuse and drugs that Tupac rapped about. I wasn't tied in to that daily real-life stuff but I had more like a 30,000-foot perspective scenes. We were able to bring together both the inside baseball and the outside view."
Their resulting film, featuring Demetrius Shipp Jr. as Shakur, sheds fresh light on a short but brilliant career that would ultimately yield more than 75 million in record sales. In between recording sessions that set the bar for incisive hip hop lyricism, Shakur, embroiled in a fierce feud with rapper Biggie Small, got shot five times by New York City assailants shortly before going to prison on sexual assault charges. The film concludes in 1996, when drive-by shooters kill the 25-year old Shakur in Las Vegas.
All Eyez also illuminates lesser known aspects of Shakur's life, including his fondness for Shakespeare and the deep friendship he forged with future TV star Jada Pinkett (Kat Graham) while attending Baltimore School for the Arts on a scholarship. "Everybody knows the iconic moments, like the shootings and Death Row, but we also wanted to show people his childhood and adolescence," explains Haft. "Tupac was born into this tough situation where the FBI was all over his mom Afeni. She was a very well-educated Black Panther and she ingrained in Tupac the idea that you need to challenge authority."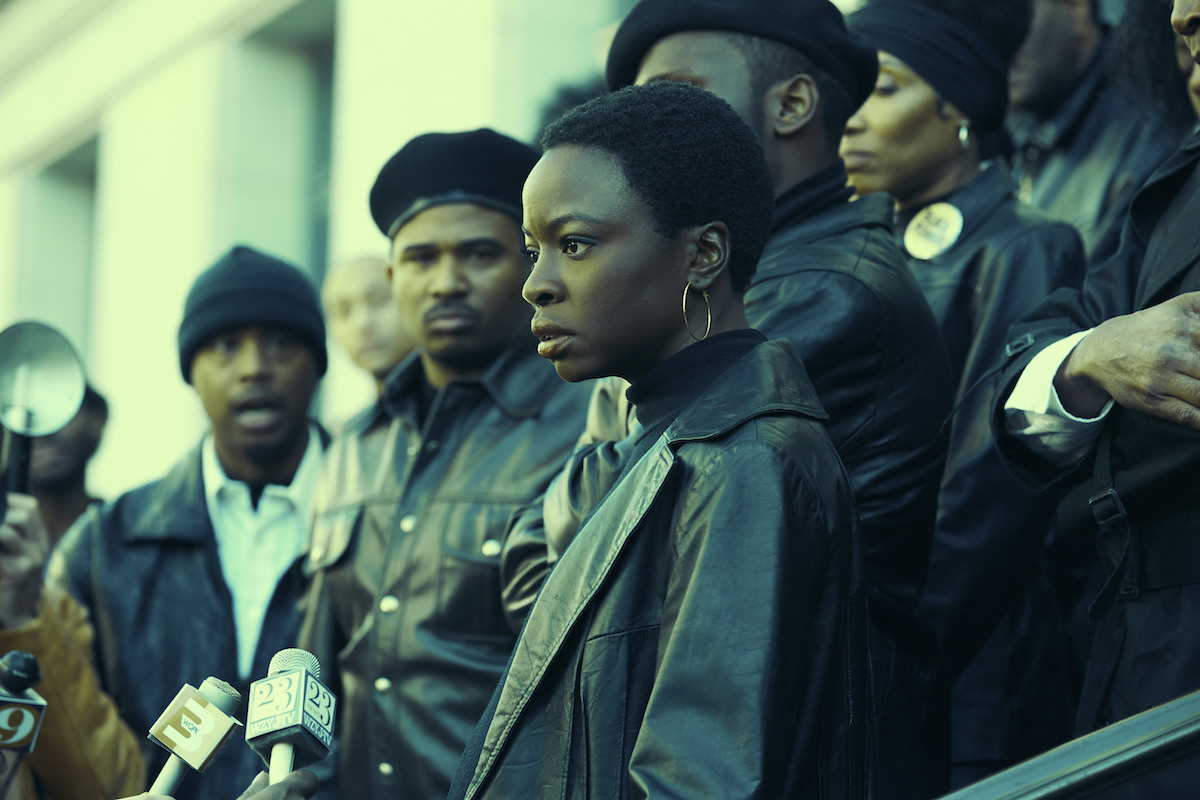 Danai Gurira stars in ALL EYEZ ON ME. Photo: Quantrell Colbert
Compiling research for their screenplay, Haft and Gonzalez interviewed members of Shakur's entourage, pored through court transcripts, checked out video interviews online and spent hours with All Eyez on Me producer L.T. Hutton, a former Death Row Records executive who worked with the rapper in the '90s. "That guy has an amazing memory," says Gonzaelz. "He's definitely a Tupac-olgoist, so four or five days a week we'd meet with L.T. You can Google stuff, watch YouTube, read Tupac's book of poetry as much as you want and but to hear all these stories from a friend of Tupac who was actually there — that kind of in-person stuff was vital."
All Eyez on Me takes a pivotal turn when volatile Death Row Records owner Suge Knight (Dominic Santana), brings Shakur to Los Angeles. "We don't know Suge Knight but L.T. worked with him at Death Row," Haft says. "We learned that Suge was first and foremost a businessman so we didn't want to show him as being this arch-villain caricature."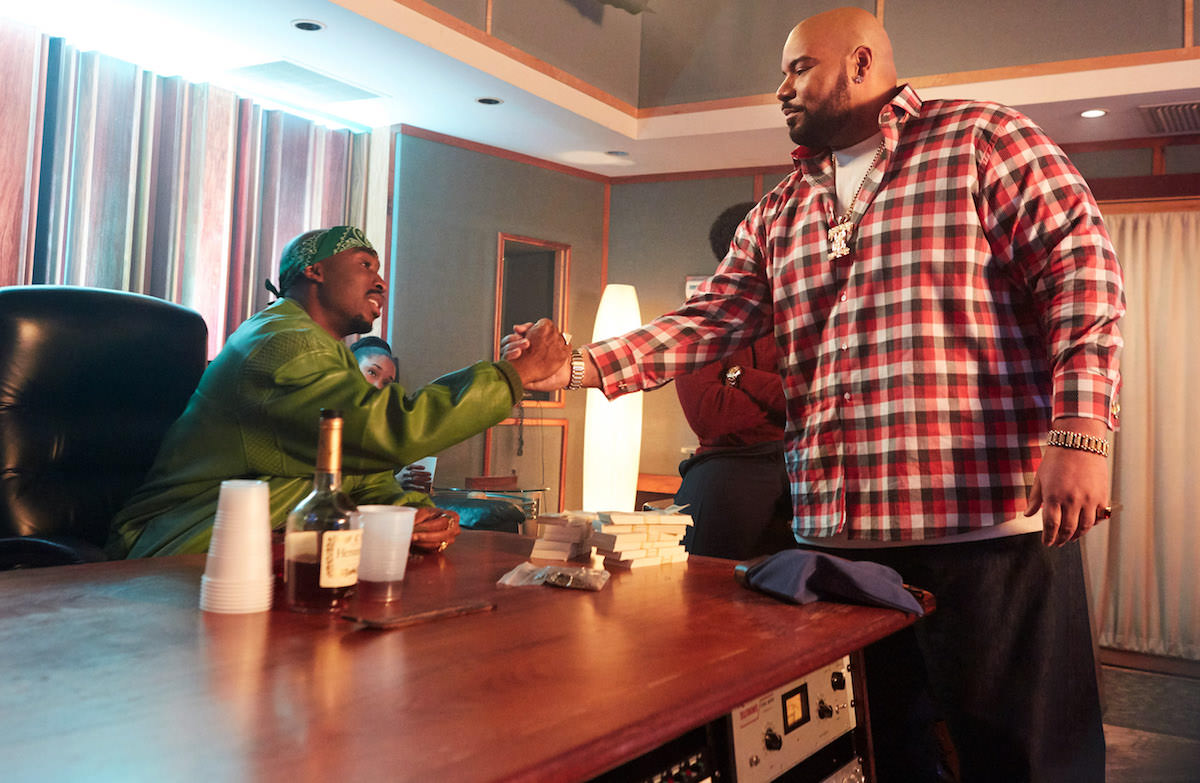 Demetrius Shipp Jr. (Tupac) and Dominic L. Santana (Suge Knight) star in ALL EYEZ ON ME. Photo: Quantrell Colbert
The writers dramatized Knight's power to intimidate by crafting a banquet sequence, reminiscent of Robert DeNiro's Al Capone in "The Untouchables," in which Knight slowly circles his guests before meting out punishment to a dishonest underling. "After we wrote that scene, we realized 'You know it's kind of like 'The Untouchables,' which we love. It's scary and cinematic because we wanted Tupac to see the danger for people who crossed Suge Knight."
While violence permeated every chapter of Shakur's short life, Gonzalez and Haft designed the third act as a testament to the artist's sheer productivity during his final months on earth. "When Tupac gets out of jail and arrives in L.A., he literally goes straight to the studio," says Gonzalez. "The pacing becomes more frenetic because Tupac's working as fast as he can and creates a double album. That's insane, but it speaks to how much he had to say."
Gonzalez and Haft hope All Eyez on Me resonate not just for long-time fans but for younger audiences as well. "It would be great to see a new generation of Tupac fans spring up because this film is not just about discovering his music," says Haft. "It's also about learning how he made such a huge impact by speaking out for the disenfranchised."
Featured image: Demetrius Shipp Jr. stars in ALL EYEZ ON ME. Photo: Quantrell Colbert