Massive Dragon Highlights new Game of Thrones Season 7 Photos
We wrote back in March about how Game of Thrones season 7 would include dragons the size of 747s. Season 7 director Matt Shakman told Entertainment Weekly: "The dragons this year are the size of 747s…Drogon is the biggest of the bunch — his flame is 30-feet in diameter!"
Now EW has expanded upon this scoop with a series of new photos from season 7, one of which shows us our first glimpse at the fully grown Drogon, and you really appreciate what it means to see a dragon the size of a 747, considering a commercial Boeing 747 is roughly 230 feet long, with a 210 foot wingspan. Considering up until now we've seen what kind of damage can be down by a compartively small trio of dragons, seeing Drogon like this makes us understand how it really might only take three of these things to win a war. The three dragons ridden by the three Targaryens on their historic sacking of Westeros were fully grown, and no army could stop them. The Targaryen Dragons were used in their wars of conquest against the Seven Kingdoms in seminal battles like the burning of Harrenhal and the First Dornish War. In George R.R. Martin's rich Westeros history, dragon even battled dragon in the Battle Beneath the Gods Eye. In the remaining two seasons of GOT, the dragons could be used to dispatch of Cersei and Jaime Lannister's army, or, perhaps more crucially, in taking on the Night's King and his undead army.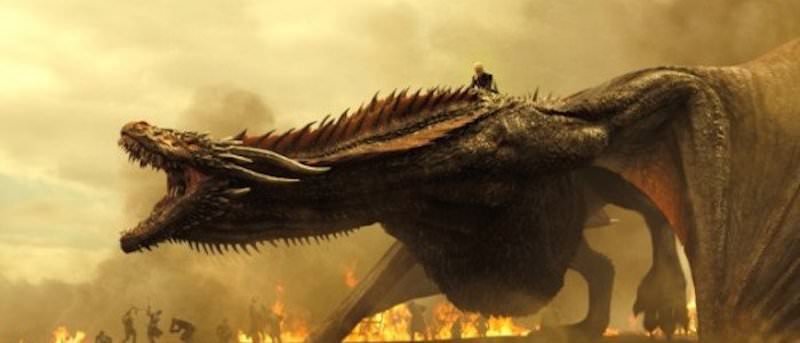 Drogon in season 7 of Game of Thrones. Courtesy HBO/EW
The other photos include Jon Snow (Kit Harington) in Winterfell, Arya Stark (Maisie Williams) on horseback, and Gwendoline Christie having a laugh on the set, preparing to play Brienne of Tarth.
Game of Thrones returns on July 16.
Featured image: Emilia Clarke. photo: courtesy of HBO​