Edgar Wright's Baby Driver Official Trailer Shifts Into Overdrive
When we saw Baby Driver down in Austin at the South by Southwest Film Festival, we were well aware we'd just seen a certifiable hit. Edgar Wright's loving spin on the heist movie proved that nobody deconstructs and reconstitutes genre better than he does. As we wrote then, "[Wright] has made zombies fresh again in Shaun of the Dead, buddy cop stories hilarious again in Hot Fuzz, and alien invasions surprising again in The World's End, but the work he's done here for the heist genre might be his most inspired yet. The action is thrilling, the cast excellent, and the music—the music!—is delightful."
Sony Pictures has delivered the first official trailer, and it's an excellent primer on what makes Baby Driver so much fun. The film is centered on Baby (The Fault in our Stars' Ansel Elgort), a getaway driver with a very specific tic—he cannot do his job unless he's blasting one of his playlists. Wright then matches the action (and there is a lot of great action) to the specific rhythms of whatever Baby's playing, creating sequences so turbo charged you find yourself stamping your feet in the aisles as Baby shepherds his crew of criminals at dangerously high speeds.
Like any heist movie worth its "last job," there's an object of the lead's affection, in this case Debora (Lilly James), another music-obsessed down-on-her-luck gal who Baby adores, and who begins to shape Baby's playlist the deeper and deeper he falls for her. Then there's the crazy, dangerous criminal Doc (Kevin Spacey) who gives Baby that requisite "last job" that fuels so many heist films.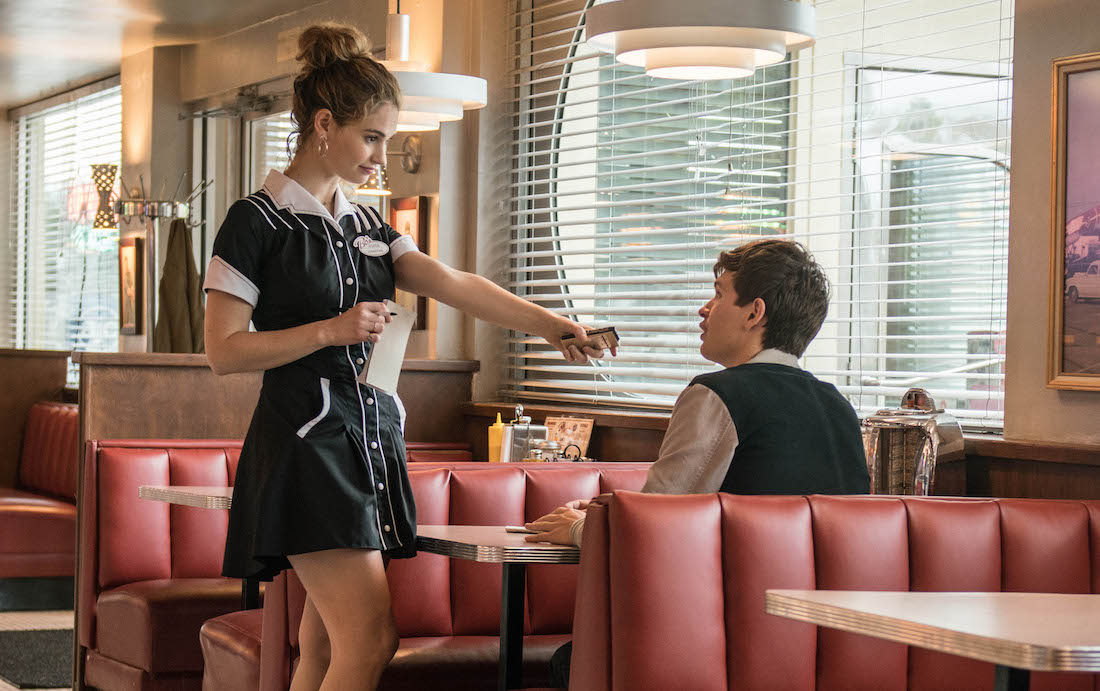 Baby (ANSEL ELGORT) charms Debora (LILY JAMES) at her work in TriStar Pictures' BABY DRIVER. Photo by Wilson Webb. Courtesy Sony Pictures.
And then there's the crew, which includes an excellent ensemble of lunatics played by fantastic actors. There's Bats (Jamie Foxx), Buddy (Jon Hamm), Griff (Jon Berenthal) and Darling (Eiza González), none of whom are entirely reliable or sane themselves. The job is to rob the Post Office, of all places, and it comes after Wright has given us plenty of potent banter, narrative left turns and enjoyable weirdness to know that anything can and probably will happen.
Who knows what genre Wright will explode next. With Baby Driver, he's given us a heist movie for the music obsessed and a master class on scoring action sequences, packaged in a story with characters you begin to care about and two young lovers you desperately want to succeed. It's the one last job worth taking.
Baby Driver zooms into theaters on June 28, 2017.
Featured image: Baby (ANSEL ELGORT, front right), Bats (JAMIE FOXX, front left), JD (LANNY JOON, back right), Eddie (FLEA BALZARY, back left) wait in the car in TriStar Pictures' BABY DRIVER. Photo by Wilson Webb. Courtesy Sony Pictures.