Morena Baccarin on Not Playing the Good Girl in Deadpool
As the tough-talking prostitute/love-interest Vanessa in Deadpool, Morena Baccarin gets to shake off her good-girl persona. We chat with her about playing an unconventional character, how the comic book genre is creating some surprisingly complex roles for women, and why she won't be signing up to star in an action movie any time soon.
Compared to your roles on Homeland and Gotham, this character is a bit of a departure for you. What attracted you to the project?
To begin with, I just got the scenes between Wade and Vanessa. There were two scenes for auditioning and I read it and I thought this is really funny and seems really fun. I knew [Ryan] was attached and I was like, great, so I auditioned for it. Then when I was asked to test, they finally gave me a script, so I could read the whole thing, and when I read it, A, I was completely entertained, which is rare. Usually when you're reading an action script, it's so boring. You're just reading about a bunch of things that are going to happen that you can't see- but I was thoroughly entertained, and the dialogue was so funny. The female character was so strong: just versatile and strong and funny.
Can you describe her?
You usually either get the damsel in distress in these kind of movies, or the girl that's one dimensional, that the guy just has a thing for, and they get together and it's over, right? In this, she's got her own personality, her own thing going. She can keep up with him. She tells him when he's being annoying, when to shut the f**k up, and she can give it right back to him, and it's a great relationship. She's strong; she stands by him and she tries to help him through his cancer and all this stuff, and they have a real emotional journey together, and it's just really rich.
The superhero genre is getting quite a lot of attention at the moment with people pushing for more racial diversity and more female superheroes and that sort of thing. Is that something that you're conscious of, and where do you feel Deadpool sits in that discussion?
For sure. I mean, look, Avengers is incredibly popular and really entertaining; obviously directed by Joss [Whedon], who I adore, but I think people are also ready for a new kind of thing. A superhero that is not so likable, who has a dark side, that is a little bit more unexpected and you know, is it going to offend you or make you question if you are going to like him. I think this movie does that really well. You may not like Deadpool as a person, but you're going to be entertained by him and you're going to appreciate his antics.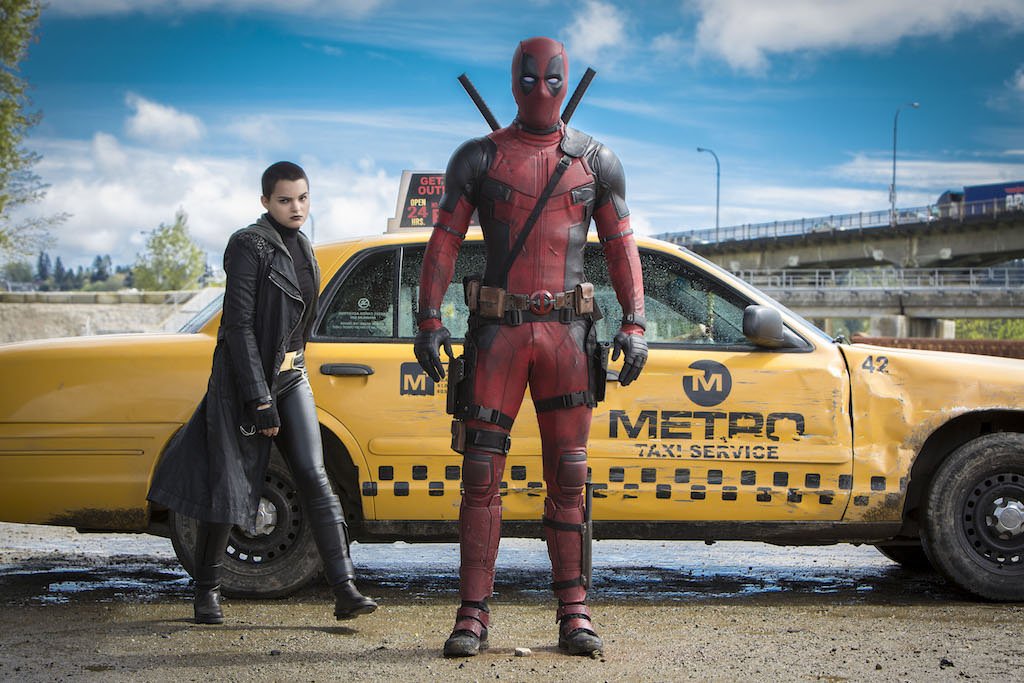 The Negasonic Teenage Warhead (Brianna Hildebrand) is one of the toughest ladies around. Courtesy 20th Century Fox/Marvel
Sure, it's a different concept, having someone starring in a superhero movie that the audience may or may not identify with.
Yeah, exactly, and Ryan Reynolds is hard to not like.
How was working with Ryan? Had you met him before you worked with him?
Yeah, I'd met him a couple of times before. I've always liked him very much, and working with him proved just how talented he is. He's really passionate about this project in particular, and he's been working really hard to get it out there, and he was tireless on set. He had a really tough job, and he was able to just really maintain his energy level and ambition and just keep his eye on the prize. He kept remind us about what kind of movie we were making. And keeping everybody on track with it. We had a lot of brainstorming sessions, like figuring out how to improve a scene or a moment. He was always striving to make it even better than it already was.
How did you find the physical side of the role?
There was quite a bit towards the end of the film. It wasn't what [Ryan] had to do, by any means, but it was enough to give me a little taste. I was like, 'Okay, did that. Not doing an action movie anytime soon.'
It hasn't unleashed some kind of action hero in you?
No, I'm not Gina Carano. Gee, that woman is strong. We did a couple of fight scenes together and she kicked my ass.
So, the superhero genre is quite a crowded genre.
Right.
But Deadpool stands out within that, partly that's due to the fact that it's got an R rating. It feels like it's silly but adult at the same time. Was that important?
Yeah, absolutely, and I think that was something that Ryan fought really hard for. I'm so glad, because if we couldn't say enough f*cks or show enough boobs, I mean, come on, let's be real. But not mine! Ryan and I have plenty of sex scenes, so you won't be missing out on any of those.
Yeah, it gets pretty steamy!
Yeah, exactly, but I think it's a kind of movie, it's a kind of character that calls for unfiltered, adult conversations, and if you have to edit yourself- and there's nothing genuine to that comic book- to that character, I think fans would have a real problem with it.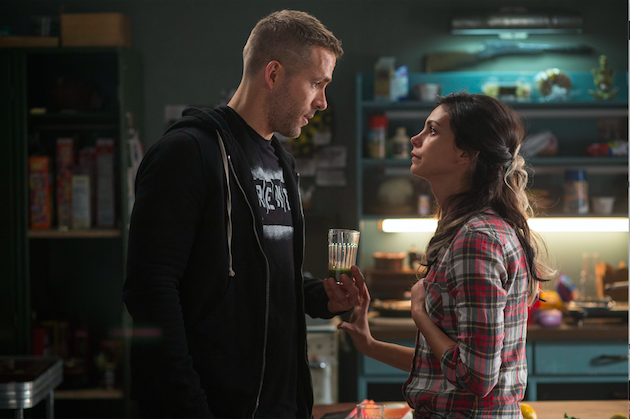 Wade Wilson (Ryan Reyonlds) and new squeeze Vanessa (Morena Baccarin) trade some pointed barbs. Courtesy 20th Century Fox/Marvel
This is quite different from what people expect from you based on your previous characters. Is that something you're looking forward to, being able to show a different side of yourself?
Absolutely, I'm so excited. I'm very proud of this movie and of this character. I'm genuinely excited to talk about it. I think that it's going to take people by surprise. It's really not a conventional movie in any way, and I think it's a female character that people haven't seen out there much, unless it's a movie about that. She just happens to be in his universe, and she's cool and she keeps up with him, and she's a character you want more of.
There's been a lot of talk recently about the dearth of complex female roles, particularly as you get older. What is your take on that?
It's really hard. There's a lot of us out there looking for strong material and there's just not a ton of it. There's typically in a movie that has five guys, there's maybe two female roles that are interesting, if two- sometimes mostly just one- so there's a lot of competition. I think it's changing a little bit and I actually think the genre world is helping to change that. For some reason, I think that the majority of really amazing strong female characters are coming out of the comic book world and out of the sci-fi world, because I think it's a world of fantasy and imagination that is often written by guys, and I think that they want strong, interesting females out there.
At least in their fantasy world!
In their fantasy world, yes, which hopefully will become the reality.