Comic-Con 2013: A Superhero's Secret Weapon? Music
Iron Man's got the Mark 42 armored suit and Wolverine has the claws, but both of these bad boys have something else to help them wow fans time and time again—great music.
Comic-Con started off, if not with a bang, with something better — a grand, sweeping, orchestral superhero movie score. The men who put music behind Marvel characters like Iron Man, Kick-Ass, Wolverine, and The Avengers spoke to the fans about the challenges of finding a musical equivalent to the grand sweep of characters and stunts that are themselves bigger than life. They showed some glimpses of upcoming releases including Joss Whedon's SHIELD television series starring Clark Gregg, and a story about Captain America's 1940's girlfriend.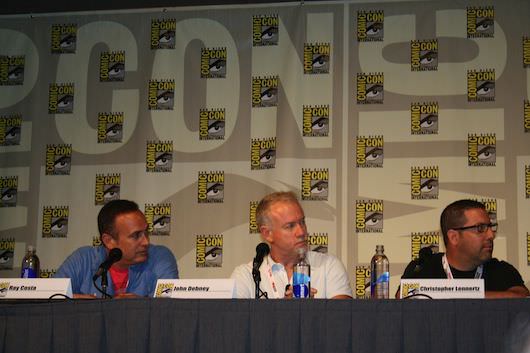 Marco Beltrami described his work on next month's Wolverine. Although it's set in Japan, he did not want the score to be "place-specific." It was more important that it reflect the mood of the title character. Early on, he used two notes on a solo harmonica to express his isolation. Later, the music becomes more complex.
Music supervisor Dave Jordan explained that while each of the Marvel superheroes has distinctive characteristics, settings, and villains, with different writers and directors, they are all part of the same universe and music is one of the ways they are tied together. In the second Iron Man movie, Tony Stark shows an audience some archival footage of his late father Howard from the 1960's. To evoke the connectedness of the storylines, they began with a musical theme in the archival footage inspired by the Sherman Brothers, who wrote songs for Disney in the 1960's, including the score for Mary Poppins. Jordan said they were looking for a contemporary but mid-century sounding version of another Sherman song: "It's a Small World After All." They even used a brief sample from a Richard Sherman tune. He showed us how that theme comes back subtly as Stark watches another old film made by his father — and is used again in another movie, the WWII-era Captain America, when a young Howard Stark turns up as an inventor working on a military project.
Matthew Margeson spoke about coming into Kick-Ass 2, balancing the need for continuity and the need for bringing the story forward. "We had our DNA," he said, in the original score from Henry Jackman. But the sequel has a wider range of characters and the score had to reflect that.
John Debney also came in to a sequel: Iron Man 2. He wanted something "more orchestral" than the first, but with "rock and roll influences." He also wanted to in make the score stirring enough to engage the audience without distracting them from the story, which is often, in the world of superheroes, quite loud. "The soundscape is massive. Iron Man is a big metal guy. There's a lot of clanking." What he diplomatically described as "the subtle choice of mixing the music very low" was clearly a frustration for the composers, and there were knowing laughs from everyone. "Sometimes, rightly so, the music has to take a back seat," he said. "Iron Man 2 is rich with sound, and you have to hear it."
What was most illuminating was "dry" action footage, without the music and sound effects. Even the most effectively filmed and compellingly performed action scenes had no power without the music. As Debney said, "so much of the editorialization is added by the score." These scores may not be the tunes you hum on the way home from the theater, but they are an essential part of putting the "super" in "superhero."
Featured image: Logan (Hugh Jackman) fights his greatest battle in THE WOLVERINE. Photo credit: Ben Rothstein. Courtesy Twentieth Century Fox