CinemaCon Day Three: Johnny Depp, Salma Hayek, & Auteurs Galore
The third day of CinemaCon was an epic ode to the art of filmmaking and an optimistic look ahead at the future of theaters and movie-going. From a dynamic panel on keeping up with today's savvy moviegoer, to an intimate and engaging lunch with three of the biggest directors on the planet, and incredible studio presentations from Walt Disney and Sony, here are a few of the highlights from today's action packed 'day three' at CinemaCon:
Today's Savvy Moviegoer? Content With More Content.
The day kicked off with a thought-provoking panel: An Industry Think Tank 2.0: Meeting the Expectations of Today's Savvy Moviegoer. Producers, distributors, and experts from brands like Universal, Cinemark, and Facebook weighed in on the ongoing pressures movie theaters face in catering to a digitally savvy audience. All were in agreement that no experience could attempt to replicate the in-theater experience. Adam Fogelman of Universal quipped, "I believe there is no private screening room in the world that could compare with the movie theater." In addition, he pointed out that people who consume content will consume more content, refuting claims that people who purchase DVDs and streaming services will abandon theaters. "Viewing begets more viewing," he said, pointing to the surprising success of NBC's Olympics coverage. Panelists called upon theaters and studios to experiment with year-round programming and new technology in order to coincide peacefully with the proliferation of quality television series and 'content everywhere.'
Iconoclast Insight (And Lunch): Guillermo del Toro, Sam Raimi, and Oliver Stone on the Importance of Movie Theaters and Their Love of Film.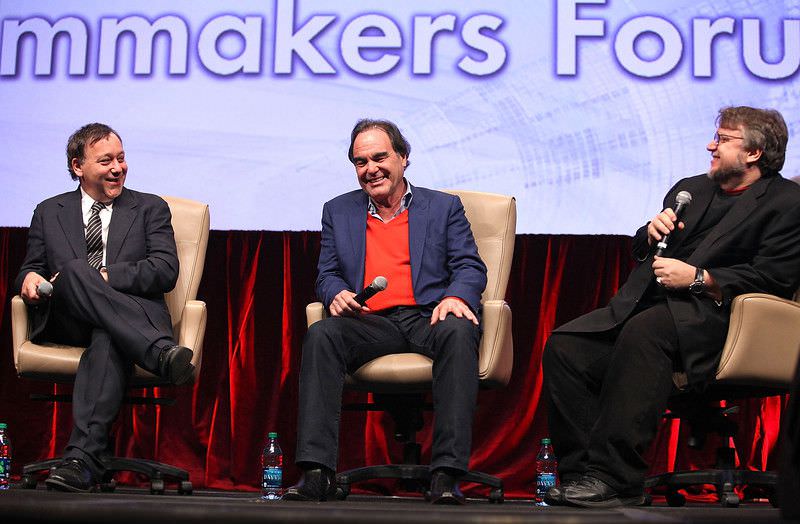 Film curator Elvis Mitchell from the Los Angeles County Museum of Art led a dynamic panel with three of the biggest directors working in Hollywood today – Guillermo del Toro, Sam Raimi, and Oliver Stone. While conference-goers munched on caprese salad and delectable chicken, the iconic filmmakers discussed their love of cinema, the importance of movie theaters, and why they do what they do. Here's a little Hollywood trivia: when it comes to naming the scariest movies they've ever seen, Sam Raimi named Night of the Living Dead, Oliver Stone; the original House of Wax in 3D and Guillermo del Toro's first scariest is…Wuthering Heights. "I think that's when I became obsessed with gothic characters," he mused.
So why do they make some of the greatest movies on earth? Sam Raimi does it for his audiences. The director explained, that for him, there is no greater reward than seeing an audience react. "I doubt anyone on this stage would disagree that we do it for our audiences," he said. "The opposite of love is not death," del Toro conceded, "it's indifference." For del Toro, story is supreme, and telling a well-plotted tale is tantamount. "Content is king," the director said—and style can't carry a movie without a strong narrative at its crux. For Oliver Stone, the theater is integral to the viewing experience. "We send notes!" the director exclaimed, citing notes he's sent to theater owners asking them to play the audio at a certain level in order to enhance the movie-going experience.
Stone even cited our Meet A Maker video with Amy Hunter, General Manger of AMC Lincoln Square 13, and pointed out that in smaller regions, her passion for cinema and the breadth of her managerial experience is harder to come by. He asked theater owners everywhere to be mindful of projection brightness and audio, as these are integral for the viewing experience. All directors noted that the theater is instructive for how they direct – after all, it's where they learned to love cinema and it's the venue they cater to when making unforgettable major motion pictures.
All Hail Johnny Depp and Salma Hayek! Walt Disney and Sony Bring Down the Colosseum With Respective Sizzle Reels.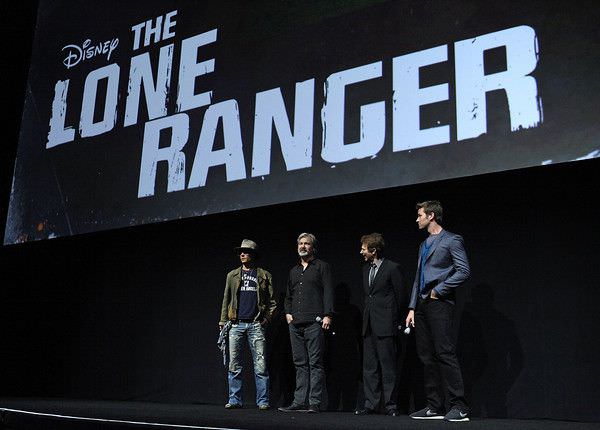 Disney and Sony both boast an impressive roster of upcoming films, which were on full display on the third day of CinemaCon. For Disney, look no farther than highly-anticipated films like Iron Man 3, Maleficent (starring Angelina Jolie, no less), and Star Wars: Episode VII. In fact, Disney disclosed that it would be unearthing a new Star Wars film every year for the next five years (yes, you read that right!). But perhaps the most impressive of all was the Johnny Depp-attended sneak peek and trailer for the upcoming flick Lone Ranger. Spoiler alert: it looks awesome. Disney also gave conference goers an exclusive screening of the eagerly-awaited Monsters University, which you should know is completely great.
Later in the day, Sony celebrated their numerous flicks with a hilarious introduction from the cast of Grown Ups 2. That's right; Adam Sandler, Salma Hayek, David Spade, and Kevin James were all attendance to introduce Sony's whirlwind reel, which featured trailers for upcoming flicks like Elysium, After Earth, Captain Phillips, and White House Down starring Channing Tatum and Jamie Foxx.
Lastly, Lucasfilm's President Kathleen Kennedy was awarded the 2013 Pioneer of the Year Award at a delicious and entirely entertaining conference dinner. To say it was a great day would be an understatement. Stay tuned for more coverage from CinemaCon, and an in-depth report from tomorrow's Geena Davis-helmed panel on the importance of women in the film industry!
**Featured image: Johnny Depp and Lone Ranger director and producer Gore Verbinski. Photo by Ryna Miller/Capture Imaging, courtesy of CinemaCon