Brush Up On The Spectacular 2013 Oscar Award Short Film Nominees
While we eagerly await the 85th Academy Oscar Awards Show, here's an oft-overlooked category you can quickly catch up on: the Oscar-nominated Short Films of 2013 have just been announced. And let us tell you, this category may be short in time length, but there's certainly no shortage of excellent entertainment in the lot.
Shorts are fast becoming one of the most exciting genres of film–and long gone are the days when catching shorts proper meant traveling to a major hub like NYC or LA. Thanks to the Internet and short-centric initiatives like ShortsHD, film fans can now view shorts from wherever they are, whenever they want. Dying to see this year's Oscar contenders in their entirety? You'll only have to wait until February 13, 2013, before you can check them out via OnDemand or in one of 200 participating theaters across the country.
So, first things first: let's scope out the goods. This year's robust list of Short Film Oscar nominations will likely satiate any film lover's predilections. The best bite-sized films of 2013 include Disney's oh-so-cute dialogue-less cartoon romance set in mid-century NYC (Paper Man), a wonderfully bizarre live-action fantasy about a shadow collector (Death of a Shadow), and a heartwarming mini doc about two generous salon owners who provide pro-bono beauty services to chemotherapy patients (Mondays At Racine).
Animation, live action, and documentary are all par for the course in this year's Short Film nominations, so sit back, grab a snack, and learn more about the following splendid shorts (and for trailers and more information, just click on the film titles):
Animation Nominations
Fresh Guacamole: This colorful stop-motion animation transforms regular, every-day (and some not-so-every-day) objects into…yes…a bowl of fresh guacamole. Beautifully executed and extremely short Directed by PES.
Head Over Heels: This U.K.-born stop-motion illustrates the life of a long-time married couple who have grown apart—literally. Husband Walter lives on the floor, while wife Celia lives on the ceiling. But a newfound wedding memento might just bring the couple back into neutral territory and rekindle their long lost love. Directed by Timothy Reckart and Fodhla Cronin O'Reilly.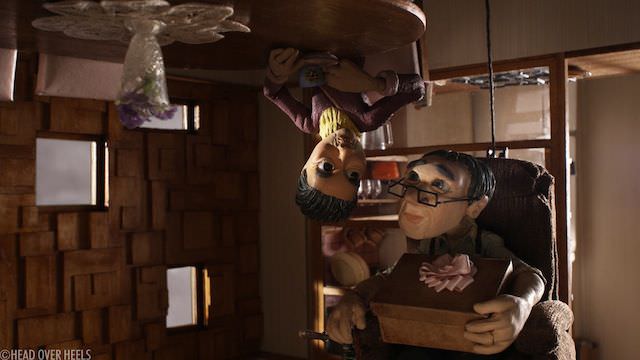 Maggie Simpson in "The Longest Daycare": Everyone's favorite, non-speaking cartoon infant is held captive—er dropped off—at the Ayn Rand Daycare Center. Yes, an expansion of Simpson's gag way back from season four, this short is hilarious and smart, but would you expect anything less from The Simpsons director? Directed by David Silverman.
Paper Man: This Disney gem is gaining steam across the interwebs for its beautiful animation, and wordless script. This budding romance set in Mid-Century New York City is short, but the impact is big—you've been forewarned: keep tissues close. Directed by John Kars. Good news: you can view the entire short here:
Adam and Dog: Beautifully animated, this not-so-short is about a dog cleverly named Eden, that seeks out to explore just what makes 'dog' man's best friend, when he comes across a man named Adam. Directed by Minkyu Lee.
Live Action Nominations
Asad: Set in a small Somalian fishing village devastated by war, this short live action fable tells the tale of a boy who comes to a very real crossroads. Should he take the route of an honest fishmerman or is the Somalian pirate's life for him? Directed by Bryan Buckley.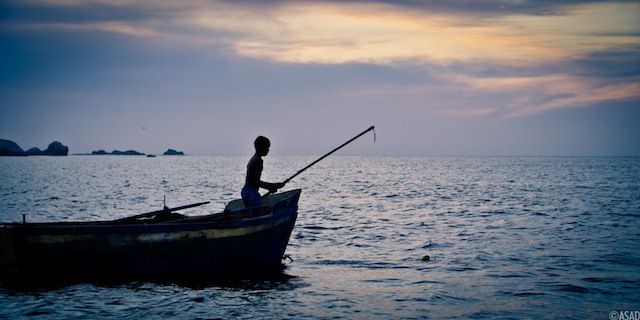 Buzkashi Boys: The subject of this live action short is Afghanistan's brutal national sport, Buzkashi, played like horse polo, albeit with a dead goat. This morsel-sized film is a coming of age tale about two boys who play Buzkashi in Kabul. Directed by Sam French.
Curfew: A man exasperated with his own life receives a call from his estranged sister with a perspective-shifting request: will he look after his nine-year-old niece for the evening? Directed by Shawn Christensen.
Death of a Shadow: A soldier dies during World War I, but with a twist: his shadow is imprisoned and granted a second chance by a mysterious man. If he captures 10,000 shadows, he will meet the woman of his dreams. But things get complicated when the soldier learns that his long lost love has since found someone else. Directed by Tom Van Avermaet.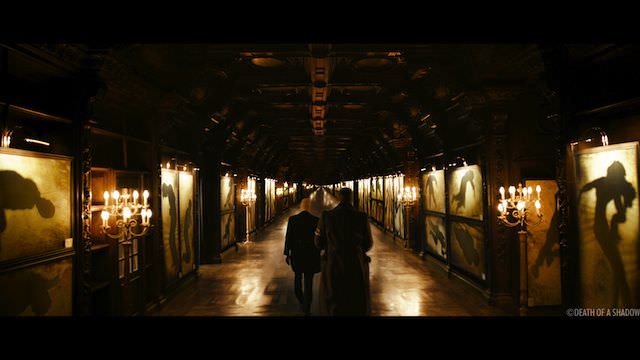 Henry: A prolific concert pianist, Henry turns his back on the craft when the love of his life mysteriously vanishes. Directed by Yan England.
Documentary Nominations
Inocente: A short, albeit moving documentary about an artist who refuses to grow jaded by her surroundings. Homeless for the last nine years, and living as an illegal immigrant, the subject of this short is moved by color and driven by passion, in the face of great adversity. With her father deported for abuse, and her mother in the throes of addiction, this is an ultimately uplifting tale of human resilience, optimism, and the catharsis of art in the face of strife. Directed by Sean Fine and Andrea Nix.
Open Heart: Heart surgeries can be hard to come by in certain parts of Africa. This short documentary tells the tale of eight Rwandan children who seek out a high-risk heart surgery in the Sudan. The documentary profiles Rwanda's single government appointed cardiologist, and his mission to make life-saving heart surgeries available at no cost, for all. Directed by Kief Davidson and Cori Shepherd Stern.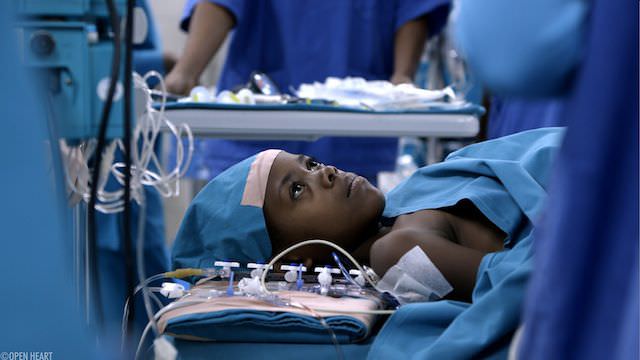 Kings Point: Two seniors living in a fairly standard Florida retirement home look back on their full lives, while putting a fresh eye on the end of life and the power of community. Directed by Sari Gilman.
Mondays At Racine: This short documentary shines a spotlight on two Long Island hair stylists who throw open their salon doors twice a month to provide free beauty services—from pedicures to facials—for women undergoing chemotherapy treatment. This mini doc shows the extraordinary power of empathy and womanhood. Directed by Cynthia Wade.
Redemption: They say one man's trash is another man's treasure—and that couldn't be more true in this short and poignant documentary about the tight-knit communities of New York City trash collectors. A unique look at urban homelessness and the value found in the things we carelessly discard. Directed Jon Alpert & Matthew O'Neill.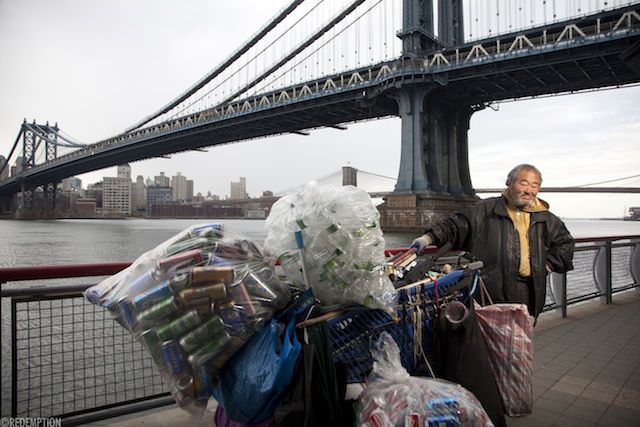 **All photos and film stills courtesy of ShortsHD.