A Pair of NY Conferences Highlight the Entrepreneurship of Creativity
October 28, 2014
During the week of October 20 – 25, the Big Apple hosted two of the television industry's largest annual conferences: The New York Television Festival (NYTVF) and Produced By.  Both conferences brought together artists, critics and fans to celebrate great TV while each putting their own spin on the creative collaboration that drives television development.
Since its foundation in 2005, NYTVF has held nine annual NYC festivals, accrued 14,000 creative community members, brought together 100,000+ attendees, received 11,500 total submissions, sponsored 800 officially selected projects, and has hosted 545 free events, screenings and panels. The NYTVF is a year-long endeavor that excites and educates audiences about independent television and offers opportunities for artists to showcase their work through the festival's flagship competition, The Independent Pilot Competition. This year, the competition received more than 2,000 submissions and recognized pilots for numerous awards such as "Best Animation Pilot" and "Best Comedy Pilot."
This year's festival marked the 10th edition of the NYTVF, held at Tribeca Cinemas, Tribeca Three Sixty, and the SVA Theatre in Manhattan over the course of six days, where a screening of Fox's "Mulaney" and a keynote from "House of Cards" showrunner Beau Willimon were featured. The event also serves as a production catalyst, providing opportunities for the creators of new projects to connect with the resources of experience producers. Deadline notes that this year, "NYTVF and its partners brought a record 32 development deals to independent television creators – up from 15 in 2011."
Just a few subway stops uptown, the Producers Guild of America (PGA) joined with hosts HBO and Time Warner on October 25 to bring the Produced By Conference to the Time Warner Center in New York after six sell-out years in Los Angeles. Like the New York Television Festival, Produced By aims to exhibit the best that New York's creative community working in film, television and new media have to show through a series of panels and discussions. Produced By, however, places a strong emphasis on the work of producers; it is a self-proclaimed event that is "truly for producers, by producers." Keynote speakers this year included Harvey Weinstein, Mark Gordon, and actor of the upcoming film "Nightcrawler," Jake Gyllenhaal.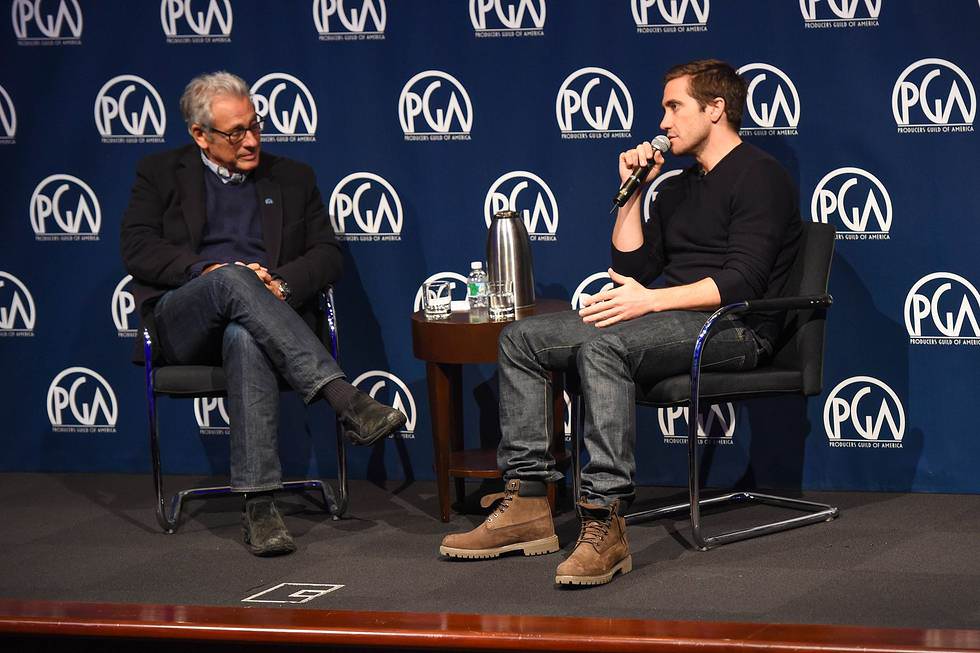 Hawk Koch and Jake Gyllenhaal at the 2014 Produced By Conference. Photo Credit: Invision/AP
In a conversation with PGA president and producer Hawk Koch, Gyllenhaal offered sound input on the relationship between producer and actor and its cinematic significance: "It's all about human behavior. Be aware of your place in the grand family that is making a movie. Remember that the movie you're working on has been in development for years and everything that led to the moment."
In September, Koch delivered a similar message on Capitol Hill at "Beyond the Red Carpet: Movie & TV Magic Day."
The huge successes of the New York Television Festival and Produced By Conference this past week not only put the spotlight on New York's artistic community, they remind us that creative and entrepreneurial minds around the entire country work tremendous hours behind-the-scenes to bring their stories to screen. And as a result, audiences are experiencing what President of Development and Production of IFC, Dan Pasternack calls, "a new golden age of television."
Pictured Above: A scene from the NYTVF. Photo Credit: Lauren Caulk/NYTVF