CHCI Celebrates Hispanic Leaders & Encourages Inclusion
September 19, 2017
Last week, the Congressional Hispanic Caucus Institute (CHCI) held its 2017 Leadership Conference and 40th Anniversary Awards Gala in our nation's capital to recognize outstanding Hispanic leaders and celebrate the next generation of influencers.
As the Advisor for Inclusion and Multicultural Outreach at the Motion Picture Association of America (MPAA), I was honored to participate in a leadership conference panel of industry representatives to discuss the need for a more diverse talent pipeline – one that includes Hispanics both in front of the camera and behind the scenes. I was joined by impressive Latinx leaders, including:
Congressman Joaquin Castro (TX)
Danny Trejo, Actor and Activist
Ron Estrada, Senior Vice President of Corporate Social Responsibility and Community Empowerment at Univision
Mayela Rosales, Co-Founder and Executive Vice President of Media Vista Group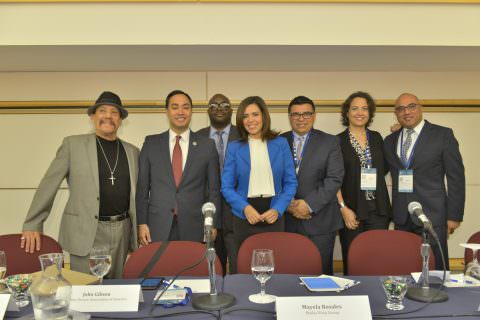 CHCI Diversity in media panel. Photo credit: CHCI
The panel was a great opportunity to discuss the true meaning of diversity and inclusion. To many, diversity often means simply having someone in the room who doesn't look like you, but inclusion means welcoming their participation.
We're working to make the film and television industry a more inclusive, authentic, and representative community of creators through our partnership programs at the MPAA. We work with organizations, including the Hispanic Heritage Foundation, the National Association of Latino Independent Producers, Vote Latino, Georgia Latino Film Festival, and New York Latino Film Festival to help aspiring Latinx pursue their dreams.
Hispanics make up the largest ethnic minority in our country – by 2050, the Hispanic population is expected to reach 106 million. And our recent Theatrical Market Statistics Report shows Latinx moviegoers are some of the most dedicated in the nation. While Latinx make up less than 19 percent of the total U.S. population, they represent 23 percent of frequent moviegoers. We must ensure that they see themselves – and their stories – in the media more often.
This conference allowed us to discuss the importance of diversity in media, and gave us the opportunity to speak with future leaders about the challenges and opportunities in building inclusive media and entertainment communities.
To conclude the conference, the CHCI 40th Anniversary Awards Gala celebrated the work of inspirational Hispanic leaders and influencers. Honorees included:
Lin-Manuel Miranda, composer, lyricist, playwright, and actor
Cástulo de la Rocha, President and CEO of AltaMed
Sandra Cisneros, award-winning poet, short story writer, novelist, essayist, and activist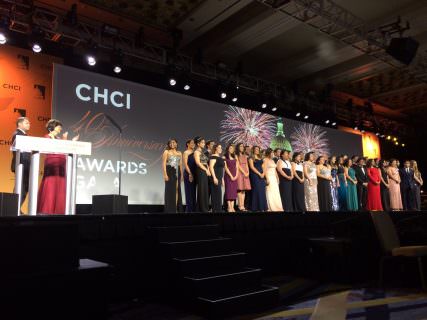 The CHCI intern class of 2017 received a standing ovation. Photo credit: Rep. Lucille Roybal-Allard 
For more information on CHCI's 2017, visit their website.
Featured image: Rep. Joaquin Castro looks on as Danny Trejo and John Gibson respond to questions. Photo credit:CHCI